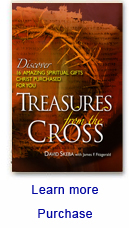 "This book is not to be read casually but thoughtfully and prayerfully over and over again. Read it - pray it - live it!"
Ron Hembree, D. Min.
Host of nationally syndicated
Daily Bible Study TV program
---

"Discovering Treasures from the Cross is an in-depth look at the Christ's suffering and the multifaceted benefits all believers have derived from His death. This is a powerful devotional study of the practical and the theological implications of the cross. In many ways, it makes the complex simple."
Bishop Joseph L. Garlington, Sr., Ph. D.
Senior Pastor Covenant Church of Pittsburgh
President & Founder Reconciliation Ministries International

---
"This booklet invites us to understand common Biblical terms in a way which will inspire our devotional life. All Christians can benefit from the authors' insights into the mystery of the cross"
Fr. Mike Salvagna, C.P.
St. Paul's Retreat House, Pittsburgh, PA
---

"I had the pleasure of helping to edit Discovering Treasures from the Cross, and I watched it grow into a most meaningful booklet. I know the intensity of the author's faith, and this faith infuses the entire writing. Like gourmet cooking, Discovering Treasures from the Cross is to be relished slowly, without haste. The Treasures will then become most appreciated."
The late R. Russell Bixler
Author, President & Founder
Cornerstone TeleVision Network, Pittsburgh, PA
---
"Discovering Treasures from the Cross is a wonderful book which I have now read twice! Its clarity, preciseness, close connection to the Easter season and cost all make it an excellent value as a premium. It gives the reader a simple but powerful understanding of what God provided for them on the cross.
The book has high appeal and value to Evangelical, mainline, and Catholic audiences. Most importantly, it will enrich their life and their love for Christ."
Dr. E. Dale Berkey, Ph.D.
President Berkey Brendel & Sheline
Ministry Development Specialists
---

"I have kept Discovering Treasures from the Cross on my desk for years because I have found it to be an extremely valuable reference tool when it comes to preaching about the Cross or when preparing special sermons for communion."
Rev. Dan Carver
Senior Pastor, First Assembly of God, Arnold, PA
---
"David has organized a very practical, detailed look at the work of Jesus Christ on the cross. These lessons are excellent and any believer will find them to be edifying! I enjoyed teaching the series on our Wednesday night "live" television broadcast and many of our viewers were blessed and helped. Praise the Lord for these wonderful "Treasures from the Cross!"
Pastor Rusty Yost
Christian Faith Broadcast, Inc., Sandusky, Ohio
---

"Sometimes we Christians are guilty of using "Christianeze" as our primary language! To the unchurched, words like justification, sanctification and atonement may sound like a foreign language. Thank you, David Skeba for expressing these terms in a simple, down to earth, way. I find this teaching a wonderful resource to new or inexperienced Christians and a great reminder to more mature believers of just what the Savior accomplished on that cross for us."

Barb Boston
Intercessory Prayer Leader, Free Methodist Church, New Castle, Pa.


---
"This book brought me closer in my relationship with Jesus and caused me to love Him more. It also helps remind me of how minor my problems really are compared to the pain and emotional anguish He experienced."
Joan
---

"Discovering Treasures from the Cross reinforced my faith and simplified God's truths for me about the reasons for the suffering of Christ. I want all my friends to read it!"
Colleen
---

"Thank you for such a wonderful book!!"
Helen